MEET OUR TEAM
Featuring New Artists, Models, Performers, and Musicians for Every Show!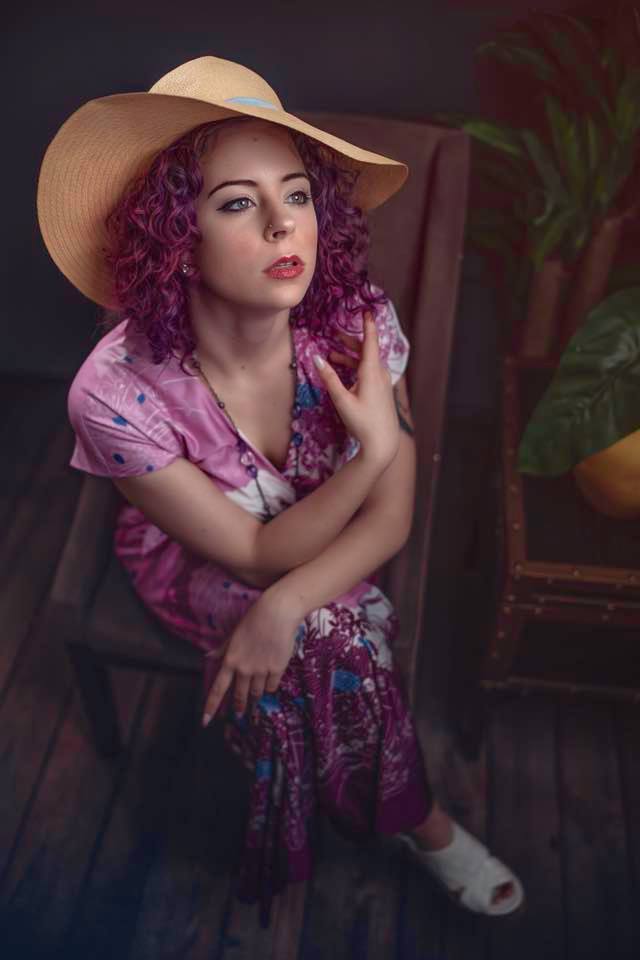 Creative Producer:
Delia Ascher
Delia is a young entrepreneur who is the jill of all trades. While producing shows and coming up with the next venture for her entertainment company, you can find her independently face painting, body painting, performing as a clown, modeling and more. She went to Moore College of Art and Design to study fashion design and 3D Fine Arts for two years, and discovered her love for performing while in college. She changed her artistic path and now hopes to inspire body positivity and celebration through her Abstract Anatomy show.
Email: Abstractanatomy@hotmail.com
Instagram: @annabelcarousel & @abstractanatomy
Sara Poskonka is a self taught body painter and effects makeup artist, she's been doing body painting for the past 9 years, she has worked on a few films and tv shows. Her work has been featured on Disney Channel and Showtime. As her full time job she runs a kids face painting company, Facecination.
Email: saraposkonka@gmail.com
Phone: 732-804-7760
Website: www.saraposkonka.wixsite.com/Facecination
Instagram: @Facecination or www.instagram.com/Facecination/
Jessica Mussie is a beauty/FX artist that started out as a self taught artist in a salon & decided to continue her education at Makeup Designory in 2016 to study FX more in depth. She's been into the arts all through her life, from art shows all throughout her schooling to studying at University of the Arts.
Throughout the year, Jessica can also be seen working at multiple trade shows such as IMATS & The Makeup Show from NYC to LA to Orlando! Currently, she is an artist and actor at The Bates Motel & Haunted Hayride, and works as a freelancer doing film, bridal & Avant Garde shoots during the off season.
You can check out more of her work at:
www.jessicamussie.com
IG: @jessicalynn_artistry
Rachel is a musician, outdoors enthusiast and spiritual practitioner. Her artworks have consisted of large scale murals and paintings for the home. You can see some of her work in the flesh at Shanteel Yoga Sanctuary in Sellersville, PA. Her amazing use of color and spiritual geometry will leave you intrigued for hours in the depth of her work. See more of her work on her instagram at @no_thingbutlove
Allison is excited to be joining Abstract Anatomy for her second year as an artist. She studied makeup at the Christine Blundell Makeup Academy in London, where she was trained under several highly accomplished makeup designers. She has since worked on various film and video projects, live productions, weddings and runways, applying a range of beauty looks and special effects makeup. She is based in Philadelphia and loves pursuing her passion in the arts.
Email: allisongoetzmua@gmail.com
Isabelle is a Special Effects artist originally from Tampa Florida, inspired by everything horror and gore. She has worked in Ohio and at Terror Behind the walls in Philadelphia as a makeup and prosthetic artist. In her spare time, she makes her own horror masks, props and prosthetics. You can now find her doing special effects for videos, photo shoots and more in Philadelphia, PA.
Email: izzyshamirani@gmail.com
Phone: 727-434-2388
Instagram: @izzyoddity

Artist:
Sageona Piccirillo
The mostly self taught Sageona Piccirillo has a lifetime of art, murals, makeup, and what some would consider taking Halloween "too"seriously behind her. In the last several years, she has been engaged in and working on her skills in body and face painting more intensively. During these past years she has spent her extra time
learning and practicing all she can, doing freelance work, and has been working for the face painting company Facecination. She has experience working across a multitude of mediums and is always willing to try something new.

Instagram/Temporary Portfolio: www.instagram.com/sageonaaa/ or @sageonaaa
Email: sagepicc@gmail.com
Phone: 732-575-6886
Performer:
Ely Myers (AKA Twitch)
Ely is a multi-talented performer who describes himself as "a circus freak that never made it to the tent". Starting by learning how to breathe fire at 18, he hasn't stopped adding new talents to his repertoire, such as flow arts with poi, staff, and rope dart, eating fire, and taking classes at the Philadelphia School of Circus Arts for juggling and unicycling. He has also been seen performing stand-up at several open mic events, and is a veteran actor at the Valley of Fear. When he isnt busy with all of that, he also moonlights as a sound technician, most notably for the Philadelphia Phoenix Professional Ultimate Frisbee team as well as the Ukranian Folk Festival at the Tryzub in Horsham.
Devon started dancing at the age of 3 spending most of her life studying many different styles of dance. In the more recent years, she's fell in love with pole dance and hoop dance. While pole dance is her main love, hoop dance started off as an interest from watching other hoop dancers at festivals and bloomed into a new love. Not only does she teach pole fitness, Devon competes in an amateur division of Pole Sport Organization for the past 4 years, working her way to Pro divisions. She hopes to inspire more women to try pole dancing as way of self-empowerment and fitness.
Performer:
Christian Levens (Chapo)
Christian Levens is a Philadelphia based horror, alternative and dark art photographer and videographer. His work has been published in multiple magazines from Philadelphia and beyond. This year he started character modeling in front of the camera, but he has been independent acting all his life. A veteran at Valley of Fear located in Bristol, PA, Christian has been a multitude of actors for the well known haunted attraction going on 20 years. He has recently jumped back into performing as a fire breather, sideshow artist and clown. He is known for his dark humor, voice acting, punk rock singing and character creation. He will be clowning around this year at Abstract Anatomy Circus.
Instagram: @bonemarrowstudios & @morbid_art_images & @christianlevens
Jillian Rose is an award-winning aerialist dancer and contortionist from Souderton, PA. She has been refining her skills for the past six years at The Pennsylvania Pole Academy in Doylestown, PA. Jillian has competed in Liberty Pole Sport Organization and performed at many different events throughout the Philadelphia Region. Some of these events include: The Empress Rising, Farm Fest, Funkadelphia shows at the Voltage Lounge and the B-Side Complex, as well as three years of performing as a contortionist, actress, and aerialist at Pennhurst Asylum in Spring City, PA. She views performing as an expression of the human body as an art form and to promote body positivity. Jillian is ecstatic to be working with abstract anatomy because their mission is so similar to her own as a performer.
Performer:
Heather Margraff
Heather Margraff has been a model, artist and performer for many years. Heather has worked with local photographers on a variety of shoots. She was a body painted model for last years Abstract Anatomy show. She has many fine art talents and is also focusing on learning more about photography. Heather has been a dancer since age 11 and started with belly dancing. She has been training as an aerialist for 3 years. Her favorite aerial apparatus is lyra hoop, but she also knows silks, cube, and pole. Heather was also a fire performer at Valley of Fear. She has also performed on lyra hoop and pole for Pennsylvania Pole Academy showcases. She wants to combine her aerial skills with her modeling abilities in the future.
Instagram: @moonfirehoops
Stefana has been a lover of dance and theatre since she was a child. Throughout high school and college she took dance lessons at her local studio, was a member of Lock Haven University's Dance Company, and was cast in two major theatre productions. In 2014 she discovered aerial arts and instantly fell in love. Since then she has engulfed herself in pole fitness and lyra, and within the last two years she has been teaching herself hula hooping and acroyoga. This past August she was offered a teaching position at the Pennsylvania Pole Academy in Doylestown where she teaches lyra classes on a weekly basis. Her most recent performances include PA Pole Academy's Halloween Showcase, Abstract Anatomy's debut, and this past fall she performed the lyra and hula hooping at Valley of Fear in Feasterville-Trevose. She is so grateful for her newfound hobbies and what they have brought to her life, and she cannot wait to see where aerials take her in the future.
Instagram: @galacticdreamer_xx
Timmy has been practicing acroyoga for a little over two years with his fiancé, Stefana. When he got out of high school he really got interested in fitness, and for the past 5 years he has opened himself up to many different types of exercise such as running, hiking, biking, and swimming. When he discovered acroyoga he was instantly intrigued. He and Stefana are mostly self taught acro enthusiasts. Timmy loves acroyoga because it requires multiple skills including strength, balance, trust in your partner, and the ability to communicate quickly and concisely. Abstract Anatomy will be his first ever debut performance, and he is very excited to see where Stefana and his acroyoga journey will take them in the future.
Instagram: @treebreath_87
Anika is a multifaceted performance artist from West Chester, PA. She got her start as a hula hoop dancer, and has been lighting up the stage with LED and fire performances in Philadelphia and Lancaster for the past 5 years. Anika has also been studying aerial arts since 2018 and performs on a variety of apparatus including lyra, silks, and static trapeze.